O.K., I've had several ask me about who ended up winning the offering contest.
Well, the boys were ahead in the Kid's Crusade offering contest heading into last Wednesday night. Several people dropped checks into the girl's offering and that pushed the girls ahead by about $170.00. So, I got the pie in the face. The nice people who made the pie decided that they wanted to put mustard underneath the whipped cream and chocolate. :) It was nasty. :)
We also had an offering challenge. If we raised $600, then they got to make a human sundae on top of my head. So, they put more whipped cream, cold ice cream and chocolate sauce all on top of my head.
Before the night was over, they asked Sasha how much it would take for her to get a pie in the face. With a little prodding from me, she set the bar high at $150.00 and within 30 seconds the money came in.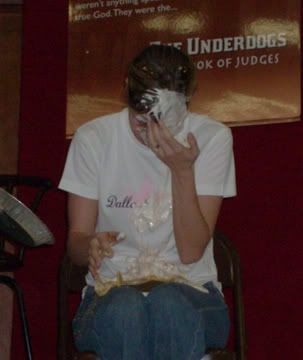 Overall, we had a great Kid's Crusade. We had 24 kids make decisions for Christ on Wednesday Night. The best part was that we had 11 kids in Kid's church on Sunday that came as a result of the Kid's Crusade. We have started running our van on Sunday Mornings.